Socio-Economic and Legal framework of Apple Inc
Apple is one of the world's leading technology companies. Since its creation, the 'Apple®' brand has focused on hardware products such as computers like the iMac and MacBook, iPod, iPhone, and iPad. Since then, Apple has also turned to services in recent years, mainly represented by its music streaming service Apple Music (Miller & Maxwell, 2016).
In 2019, Apple signs a record quarter with $91.8 billion in holiday sales. This first quarter is radically different and Apple announces a turnover of 91.8 billion dollars over the period (+9% compared to the previous year), simply the most important quarter since the creation of the company. Profits, for their part, stand at $22.2 billion, an increase of 11.37% compared to 2019. In detail, the iPhone is back in the spotlight with sales of $55.96 billion, up 7.6% over 2019. The iPhone 11 and iPhone 11 Pro have visibly seduced consumers and are enabling the smartphone to post growth that Apple has not seen in a year.
For the next quarter, Apple expects revenues of between $63 and $67 billion but warns that the coronavirus outbreak could have a significant impact on its performance (Cubic.com, 2020).
In this report, I'll focus on Apple iPhone brand, and investigate why Apple Inc. is a disruptive company, what makes it have a significant impact on the U.S and global economy, and what is the secret behind the historic prosperity of this Brand and its rapid growth since 1976 to become the world biggest multinational tech company (Miller & Maxwell, 2016). I'll develop socioeconomics and legal assessment report based on several sources including journals, online reports, official press releases, and interviews, to contain my arguments in a logic that makes it easier to understand the drivers, catalyzers, and socioeconomic key elements that made such an evolution a reality nowadays.
Beyond its own characteristics, the iPhone is part of a kind of ecosystem, intending to build a true digital convergence. One of the best illustrations of this convergence is the iPhone activation process as discovered by consumers. It goes through the iTunes platform (and even in principle through the creation of an account on iTunes), which can be considered to be at the heart of this convergence. The strategic asset character of the iTunes platform is hardly questionable. According to the study conducted by the NDP Group, iTunes is, along with Wall-Mart, the most popular music distributor in the United States (Burkart, 2014). In 2008, the iTunes Store had more than 50 million customers, 6 million songs in its catalog, and sold more than 4 billion songs. Every iPhone owner is therefore an iTunes user and even a customer (if only potential) of this platform. Apple's strategy is based on this interconnection of products and services, with the value of the network increasing through consumer demand for complementary products or services (e.g. iTunes for an iPhone user), and vice versa (Sharpe & Arewa, 2006).
In this context, the animation of the user community is crucial, in particular, to gather their opinions on products, possible improvements, and even to encourage the development of new applications, as is the case for the iPhone with the SDK. Whatever the sales targets achieved with the iPhone (Apple has set a target of 10 million units by the end of 2008, but the exact number of products sold to date remains a subject of considerable controversy), it is important to note that the number of products sold by the iPhone is still very low at that time.
In 2016, ASCI, the American Consumer Satisfaction Index, shows that people in the United States are happy with the experience Apple products provide. This is the result of a survey of 3,500 US citizens. They were asked to rate their level of satisfaction with various services and products such as Macs and iPads (lesoir.be, 2016).
The reasons why users would prefer an Apple device and rather buying an iPhone than an android phone are the following (Allen & Green, 2008):
Design: Apple is known for its innovative and elegant designs that make each of its products real peace of art.
Security: Apple makes sure that no malicious application arrives at the store to steal its users' devices or even worse to access sensitive data. A strategy that pays off in view of the number of viruses found on iOS compared to Android.
Eco-friendly: Apple is one of the rare smartphone manufacturers to offer devices made from recycled and recyclable materials.
The iPhone has changed the entire face of the mobile industry globally. Apple not only innovates technologically but has implemented real business model innovation. At the launch of iTunes, the press was quite critical. And yet, the whole industry had to get on board, and today it may even be the only bulwark against illegal music downloading. Apple doesn't sell music, but offers a secure and user-friendly service for making music available. How do you sell something that has become free? By doing it better than free. Same principle for the App Store, how to fight against free Open Source? In the long run, revenues from the distribution of third-party software can become as important as the sale of devices. Apple has focused its business model on building a true multi-faceted platform. Such a platform brings together players in the content, telecom, and IT industries: music and film producers, software publishers and developers, game publishers, telecom operators. Apple thus becomes an intermediary for access to a market supported and controlled by its technological ecosystem (Bergvall-Kåreborn & Howcroft, 2013).
The aim of the present report is mainly to contribute to the understanding of this business model; regulative policies that promote innovation and the ways to avoid unsafe side-effects.
Introduction
An overview of Apple
Apple Inc. is an American multinational company specializing in electronic products and computer software, it is one of the world's leading high-tech companies. Apple distinguishes itself by its marketing approach, by its keynotes conferences whose format it has imposed, and finally by the design and by claiming the quality of its products. From Macintosh (Mac) computers to iPhone smartphones (rivaling those on Android, such as the giant Samsung), via iPad touchpads and Apple Watch connected watches, its universe attracts a vast community of fans. Its founder, Steve Jobs, who died in 2011, has been replaced at the head of the group by Tim Cook. At the end of 2017, it is accused of having hidden from consumers the restraint of old iPhones with aging batteries (O'Grady, 2009).
Apple Inc.

PRODUCTS & SERVICES
Macintosh, iPod, iPhone, iPad, Apple Watch, Apple TV, HomePod, Software, Electric vehicles, Apple store, Apple arcade, Apple music, and Apple news+
VISION
"We believe that we are on the face of the earth to make great products and that's not changing"
MISSION
"To bringing the best user experience to its customers through its innovative hardware, software, and services."
GOAL
To power all Apple facilities entirely by renewable energy.
FOUNDERS
Steve Jobs, Steve Wozniak, and Ronald Wayne
FOUNDED
On April 01, 1976
KEY PEOPLE
Arthur D. Levinson (Chairman), Tim Cook (CEO), Jeff Williams (COO)
HEADQUARTERS
Cupertino, California.
EMPLOYEES
137,000 as of the year 2019.
COMPANY WEBSITE
www.apple.com
Table : Company Profile
In less than a decade, Apple has become one of the richest companies on the planet, but it is now struggling to innovate on its products. The iPhone X, which, in 2017, marked the tenth anniversary of the release of the brand's first smartphone, had, despite its grand presentation, attracted more attention for its price – which for the first time exceeded the €1,000 mark – than for its innovative features. Tuesday's presentation of the successors to its latest models, the iPhone XS and XR, released a year ago, should not upset the situation either, according to analysts, who expect an overall few major innovations on these new models.
Revenue
Figure 1. Apple Inc. Revenues from 2004-2019
Over the last three months of 2019, the iPhone sold very well, generating the second-highest revenue in the history of these smartphones. This sharp rise in sales shows that the iPhone 11 and iPhone 11 Pro have managed to win back the hearts of buyers, especially in the Chinese market. The firm sold $55.96 billion worth of smartphones worldwide, up 7.66% over the same period last year. As in the previous results delivered by the company, it is still the cheapest iPhone of the lineage that is the most successful. Over the whole of this quarter, the iPhone 11 trumped the sales rankings, week after week (Weygandt, et al., 2019).
As has been the case for some time, accessories and wearables also registered a very strong increase, rising from $7.3 billion to $10.01 billion (+38.2%). They alone would constitute a Fortune 150 company. An excellent result that Apple owes to its Apple Watch (Series 5 and Series 3, as well as its AirPods and AirPods Pro, which have been a hit since its release. So much so that Cupertino did not hide fears related to their supply on the market (lesnumeriques.com, 2020).
Finally, services (Apple Music, Apple TV+, iCloud, etc.) are also doing very well, recording a 17% increase over last year ($12.72 billion in revenues). This increase is due in part to the launch of new services last September: Apple TV+, Apple Arcade, Apple News+, and Apple Pay (lesnumeriques.com, 2020).
Social-economic trends affecting Apple Inc.
Global Trend
Apple is the victim of a global trend: the stagnation of smartphone sales. The fact that the company admits this publicly is new. But the numbers were already there. For the past 18 months, iPhone sales have been stable: a 1.2% drop in the first fiscal quarter of 2018, followed by a 2.9% increase and two decreases of 0.7 and 0.5%. If revenues have increased by 13, 14, 20 then 28%, it is thanks to a significant increase in prices – need we remind you that the first price of the iPhone XS is 1198 Euros (Pun, et al., 2019).
Apple is taking care of its margins thanks to high prices, but the global market is difficult. According to the American research company IDC, total smartphone sales fell by 6% in the third quarter. "This was the fourth consecutive quarter of decline, which raises questions about the future of this market," IDC wrote in a note. China – which accounts for 20% of Apple's sales – is being singled out. According to IDC, the country accounts for a third of global smartphone sales and has just recorded three consecutive quarters of decline.
Saturated Market
If overall sales are down, it's because the smartphone market is saturated. And replacement cycles are getting longer. In the United States, for example, consumers now keep their phones for an average of 32 months, compared to 25 months a year earlier, according to a study by research firm NPD. And the proportion of those who keep it for more than three years has increased from 18 to 22 percent (Curwen, 2019).
Specific Problems
Apple also has a problem that most other phone manufacturers running Android (Google's system) don't have. "Because high-end Android devices, such as Huawei's Mate 20 Pro, are cheaper than the iPhone, owners can change them more often. And Android users don't get updates as long as those with an iPhone, so they keep it for longer," Frick continued. Finally, the low-cost battery exchange program, launched by Apple more than a year ago, seems to have been a success – but no figures have been released (letemps.ch, 2019).
The Economic Impact of Apple on Asia and Europe
Looking at China a Case Study
Revenues from iPhone sales increased by 8% to almost $56 billion. In particular, thanks to the latest model, which is also the most expensive. Services – such as the App Store and Apple Music – and wearables generated sales of USD 10 billion (compared to USD 7.3 billion a year earlier) and USD 12.7 billion (+17%) respectively. As for the latest, Apple TV+, the video streaming service launched in November, Tim Cook welcomed "a great start" and stressed that the brand would measure success by the number of subscribers.
In 2017, China was worth more than $44 billion to Apple or 20% of the company's revenues. These results are not negligible considering that in 2010 – the year of the iPhone's release – this figure was only 2.8 billion dollars for 4% of the turnover. These two indicators have been climbing steadily since then to reach a peak in 2015 at $58.7 billion, or 25% of Apple's revenues.
After 2015 and the release of the iPhone 6S and 6S Plus, we can see that these results are on a downward slope, probably due to the emergence of smartphones from increasingly qualitative Chinese brands (Statista, 2020).
Figure . Apple revenue in China
Revenues for the last three months of 2018, the first quarter of its lagged fiscal year, were down 5% to $84.3 billion. This figure was adversely affected by a 15% decline in iPhone sales to $52 billion, a drop attributable in particular to the downturn in the Chinese market, where the group saw its sales (all products combined) fall by 27% to $13.16 billion.
Looking at France a Case Study
The success of Apple products in France, over the period between 2014 and 2016: 630,000 of them would have been sold in the latter year (i.e. +22.2% over two years). This trend is partly explained by the iPhone, with 317,000 smartphones sold in 2016 (mainly the iPhone 6 according to an internal document, we are in 2016). This would mean a growth of 61.4% over this period. For the rest, the iPad would have sold less, unlike the Mac which would have seen a small increase. As in the rest of the world, the Apple Watch would have been a great success with 51,000 copies sold in the territory in 2016.
In addition to this, there are other tricolor specificities. Indeed, like many companies established in France, Apple France would have benefited from the tax credit for competitiveness and employment (CICE) and would have received 3.2 million euros in 2018, an amount similar to that of 2017.
However, the effects on employment are contrasted and would not have had the same repercussions as in other groups. The balance sheet of Apple Retail France would thus have recorded 713 million euros in turnover in 2018, a slight increase, for a result of 9.3 million euros (- 4%).
Figure . In France, like many European countries, the market share remains dominated by Android devices with 79.8% in 2019 vs only 20.2% for iOS (Statista, 2020)
This situation could even -irony of fate- be illustrated by the Apple Store on the Champs Elysées. The Parisian flagship store was supposed to be the brand's uncluttered showcase but has had a rather laborious start, between the employees' strike around Christmas and Saturday's movements.
In March 2020, the French Competition Authority imposed the heaviest penalty ever against the Tech giant. Apple is being fined 1.1 billion euros. Two wholesalers are convicted in the same case, Tech Data and Ingram Micro for €62.9 million and €76.1 million respectively. This brings the total fine to €1.24 billion, another record. The Authority is determined to strike a big blow to make an impression. But Apple is already considering an appeal.
PESTLE analysis of Apple to identify socio-economic trends
Figure 4: Factors of PESTEL analysis
The external factors of political conditions that the Apple brand must take into account depend in particular on the state of the markets in Europe, but also in the rest of the world. In other words, Apple depends to a large extent on agreements and treaties on the free movement of products and goods. The North American Free Trade Agreement (NAFTA), free movement in the European Union, the Southern Common Market (MERCOSUR) and the Asia-Pacific Economic Cooperation (APEC) are essential for Apple's development.
Any changes to any of these agreements and any political upheaval will alter Apple's strategies.
No company has been spared by the crisis of the last decade. Adverse economic conditions in most parts of the world have resulted in a decline in purchasing power, also for Apple's buyers.
But that's not all. The crisis has also affected large institutions and organizations that use Apple devices, which means a drop in purchases. At the international level, economic relations between the US company and suppliers abroad have been affected by exchange rate fluctuations or customs duties. Here we see how the rise of terrorism has worked against all this trade.
Socio-cultural factors are rather encouraging for Apple. The use of new technologies is spreading at high speed around the world. Hardly any population can do without them. Users of computers and other mobile devices are getting younger and younger. In addition, computers and digital tools have become indispensable, which is a boon for a company like Apple.
Like socio-cultural factors, technological factors have a positive influence on Apple. The growing use and rapid evolution of computers are key elements for the development of the American company.
All companies must comply with the legal provisions and regulations set up by the authorities concerning ecology and the environment. Apple must also comply with them. The company says it makes maximum use of renewable energy in its facilities and data centers and operates to reduce its carbon footprint.
Since Apple operates in a large number of countries around the world, the American company must take into account the legislation of each zone. This legal diversity sometimes leads to some management complications even though this diversity can also be beneficial as opportunities can multiply.
Apple's PESTLE analysis is as complex as the company itself because, like any major brand, the (external) environmental factors that must be taken into account are very numerous and different depending on the geographical area where the brand operates.
Literature review on knowledge economy and various drivers of economic change Macro-economic factors Apple considered in their business expansion plan include:
The behavior of generations Y and Z and their expectations of the world of work point to a transformation of the business model. According to Deloitte in the 8th edition of the Millennials Survey, this generation is urging private organizations to change to a societal business model.
Considering drivers is an essential process in order to ensure an appropriate analysis as it provides an idea of what should be paid attention to. If the key driver changes in an organization, the entire story will change accordingly. This analysis protects the organization from unnecessary issues and let's emphasize what is important. The drivers for societal change could be identified from three (03) perspectives; technological innovation, sociological, and economical.
Few key drivers of change related to Apple Inc. can be recognized as follows;
Technological perspective
The impact of new technologies will be at the heart of Corporate Social Responsibility (CSR) and its evolution in the coming years. My vision is that the consequences on employment and competitiveness will be enormous because people will no longer be in line with the demands of the market.
Innovation and Organizational Change:
In addition to being numerous, frequent, often impromptu, and notwithstanding the fact that they are an integral part of a company's development, we; leaders, managers, and employees, have a vested interest in better understanding these two practices.
Scalability of the Technological Slack:
The public cloud becomes the rule. Companies have been shifting their IT workloads to the public cloud for years. But a radical change has begun in large enterprises. Apple Inc. like many other tech companies has dramatically reduced or even eliminated its private data centers, moving its operations to the cloud. In fact, cloud services are expected to account for about 80% of the server and storage capacity provided in 2018. This will ensure the rapid scalability of the infrastructures including all the micro-services Apple serves online in record time.
Advanced technological solutions would allow the company as well as stakeholders to create new links and new models to reconcile: innovation, employability, and social cohesion. In short, opening up to a world that is changing with enthusiasm and without fear.
Apple's Core Technologies and Key Features
Apple iCloud is much more than a backup solution, although it is an essential component. When activated, iCloud Backup automatically saves information from your iPhone, iPad, or iPod touch. This process occurs every night whenever your device is turned on, locked, connected to a power source, and uses a Wi-Fi connection.
Swift is a programming language created in 2014 by Apple, allowing it to create applications on iOS and macOS. It was originally created as a successor to Objective-C and simplifies the programming of applications on the different platforms offered by Apple. However, it is still possible to create applications in C-Lens.
Apple released at the end of 2014 in the United States and in July 2016 in France its mobile payment solution called Apple Pay. Apple Pay works by bringing your mobile phone close to the payment terminal while putting your finger on "touch ID", the main button under the screen. The iPhone then recognizes the fingerprints of its owner and pays for the purchase. The screen lights up and confirms to the Apple Pay user that the transaction has been successfully completed (see photo below). The process is normally very fast and works equally well with a Mastercard or Visa card. It is a principle of contactless payment but with his mobile phone.
IOS and Android are the two main mobile operating systems. In 2019, their respective market shares are 11.7% and 85%. However, the hegemony of Android should not be allowed to impress us. It is also important to develop for the iOS operating system. So what are the advantages of Apple?
In some geographical areas, the market share of iOS is higher. Some studies show that Apple users are using more mobile apps. The iPhone and iPad are among the world's best-selling devices. iPhone users spend 2x more in value than Android users.
Sociological perspective
The Company's Mind-sets
Apple's products and platforms have been good drivers for change in the company, but the firm still has little time for IT managers unless they can commit to buying very large volumes of iPads or other branded devices.
The take-it-or-leave-it mentality seems to prevail over Apple's products for the company. And while CIOs can sometimes solve technical problems with an Apple Store, the process takes time. Email and phone calls simply don't offer the level of support that most IT professionals need. In recent years, Apple has made some good efforts to meet business needs, including programs such as the Device Enrollment Program that makes it easy to deploy iOS devices across the enterprise and the Volume Purchase Program that simplifies the search, purchase, and distribution of iOS and Mac apps. But the promise of previously unimaginable alliances with companies like IBM is not coming true for the majority of CIOs.
User Experience
User experience refers to a person's interaction with a product or service of a brand, and therefore refers to the use or usage of that product or service.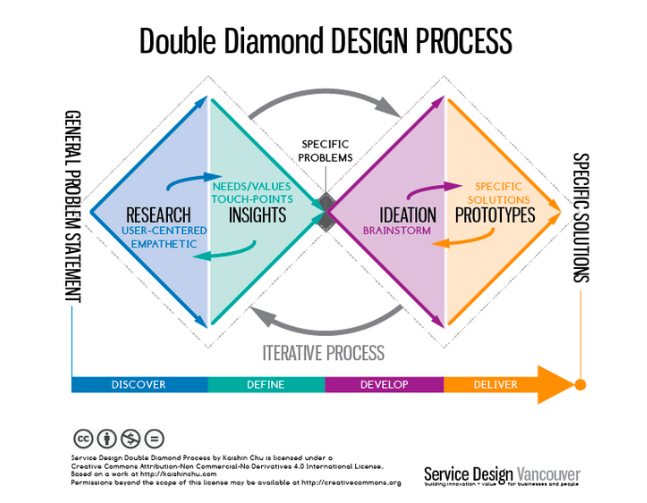 Apple focuses on holistic user experience while many competitors focus on product features and capabilities. Apple's history of innovation shows how design and innovation can turn a company's failure into success and place it in a leading position in a highly competitive market. Putting the consumer at the heart of the design process is indeed the positioning of the company. Thinking innovation is the path to prosperity. This process is called Double Diamond Design Process.
Figure 5: Double Diamond Design Process
Economic perspective
The marketing of scarcity, one of the secrets of success of apple products
Steve Jobs has turned his products into "diamonds": he has created an ecosystem where you become completely dependent on the brand once the product is in your basket: from simple accessories to after-sales service. Apple plays the marketing of rarity. When a new iPhone comes out, it's in limited quantities, to give the consumer who gets to buy it the impression that it's unique and part of a very selective group. Waiting lists are created to order THE latest iPhone; but Apple is not mistaken: making people wait is part of the game of seduction.
This strategy has facilitated Apple to retain the highest market share in the global market for smartphones.
Figure 6: Global market shares of mobile phones
Drivers of Economic Change
Apple, Champion of Top-notch Products
In lounging products to the market Apple Inc.'s organizational culture practices a policy of hiring only the best employees of the labor market in order to deliver top-notch products to its customers. This tradition assists in forming a corporate culture that encourages, appreciates, and expects top-notch quality among employees to make the outcome outstanding. The factor of being the champion of top-notch products has highlighted as an influential factor in the success of the business, which aids in a major growth in market share.
New technology – Mobile internet & cloud technology
The mobile internet and cloud technology have made businesses and people more advance. Apple Inc. has been able to provide these new technological advantages to the public through its new products and services. With the utilization of this new technology it became capable of delivering new applications with minimal or even no use of local software, increased processing power, increased spread of internet-based services, etc. By providing the new technological uses, Apple products have become the highest-selling top products in the global market which results in high revenues compared to its rivals.
Women's Rising Aspiration and Economy Power
Figure 7: Global top 10 smartphones
In 2012, the World Bank Report took up the definition of development through a gender perspective to refocus the debate on the place of women in the global economy. 70% of people living on less than 1 dollar a day are women. Women's work accounts for 58% of all unpaid work.
Today, women are still the first victims of poverty and their potential is under-utilized compared to that of men. According to a study by Booz & Company (2012), an increase in the employment rate of women to the level of men would have a direct positive impact on the GDP of many countries.
Changing the work environment
New technology has enabled organizations to have a changing work environment, flexible working arrangements, and workplace innovations. Apple emphasizes innovative operation practices such as teleconferencing, remote working, artificial intelligence, and co-working spaces utilizing the upgraded technology to make the work environment smooth ongoing and improved. This will aid its employees to work more efficiently, effectively, and productively in order to make its product with less or zero deficiencies.
Business model of Apple
Apple Inc. is one of the most recognized companies in practicing the vertical integration business model. A vertically integrated business model refers to a business that has expanded into different steps along with production, manufacturing, and supply. In other words, a vertically integrated business controls some aspect of the supply chain, which means that it not only distributes the product it sells, it is also involved in the creation and development and distribution of that product before it reaches the consumer. (Quain, 2018) As this vertical integration model commands the company to control the ultimate outcome, all its components, and distribution by itself, Apple controls its integration of the content of the product (software, media, and apps), hardware (laptops, phones, and tablets) and distribution (apps store and iTunes). Apple has championed this vertical integration model and these interconnected technologies have allowed Apple to achieve its high revenue targets together with success and growth by owing the consumers.
Figure 8: Vertical integration model
Apple Business Model Canvas
The business model canvas of Apple Inc. describes the different aspects of its business model such as key partners, key activities, key resources, value propositions, customer relations, channels, customer segments, cost structure, and revenue stream as follows;
Key Partners: Who support Apple to get succeed in its business activities?
Figure 9: Apple business model canvas
Key Activities: What are the main business activities undertaken by Apple?
Key Resources: What are the required resources do Apple needs to be successful?
Value Propositions: What are the possible problems and their solutions? What all do they have to offer Apple?
Customer Relationships: What are the features accessible by Apple to connect with the customers?
Channels: What are the desired platforms used by Apple to reach its consumers/users?
Customer Segments: Who are the people that think Apple is useful to them?
Cost Structures: What are the types of costs and their relative percentages of fixed and variable elements incurred by Apple?
Revenue Stream: What are the main significant income sources of Apple?
Impact of legal framework and political factors:
Legal factors:
Governments' force on the legal framework and privacy in the digital industry has caused an increase in rules and regulations on businesses like Apple Inc. This legal external factor is a threat to the organization's economic growth that could impose expensive regulatory compliance requirements and it could affect the business activities and revenue of the organization. However increasing privacy regulations and legal challenges of Apple's policies and practices limit the economic growth of the company.
Formal and Informal Legal Systems
Data Protection Laws – Consumers, suppliers, employees, and other connected parties disclose confidential information to Apple Inc. for their business commitments. It is the responsibility of every person connected with Apple who has access to this information to protect and uphold the confidentiality of the information. Failure to shield such customer or third-party information may harm relationships with customers or other third parties and may consequence in legal liability.
Employment Law – Apple Inc. constantly fulfills the employment laws or the labor laws in order to make its employees safe and confident in their employment. It encourages an innovative, culturally diverse, and helpful work environment and does not accept harassment or discrimination such as race, color, age, sex, religion, nationality, marital status, sexual orientation, or medical condition of employees.
Legal Protection (Intellectual Property) – Apple maintains its policy as not to knowledgeably utilize the intellectual property of any other third party without their permission or legal right. If anybody suspects or doubts that Apple is infringing an intellectual property right of patents, copyrights, trademarks, or trade secrets held by a third party, such person is allowed to contact its Legal Department.
Trade Restrictions and Export Controls – If the business activity of Apple involves the sale or consignment of products, technologies, or services through international borders, it checks with the Export Department to ensure obedience with the laws and restrictions that apply.
Environment, Health, and Safety Norms – Apple Inc. functions in a method that safeguards the environment and also ensures the safety and health of its employees. The employees can conduct their job safely with applicable EHS (environment, health, and safety) requirements. Apple always places the environment, health, and safety first and be practical in controlling with EHS risks.
Community Activities – Apple always complies with all the laws and regulations of government and operates in conduct that benefits the communities in which it carrying business activities.
Political factors
The political factors of the external environment of Apple Inc.'s mostly present macro-environmental opportunities for the organization. The political factors indicate the influence of the governments and other related authorities on the business activities. In Apple's incident, the following can be recognized as some of the major political factors which affect the economy of the organization:
Trade policies
Trade disputes
Tax policy
Government stability and related changes
Regulation and deregulation
Tariffs
And these factors can affect the following 03 aspects of the organization;
A country's political conditions have an impact on the economic environment of the organizations. As the organization's performance depends on its financial setting, the political factors can directly affect the financial settings of the organizations through taxes and other trade policies. In the case of Apple Inc., taxes are limited for its economy as it has to pay a large tax amount as the political authorities directly focus on it. But on the other hand, political decisions such as the improvement of free trade policies will aid it in a positive manner for the growth of the economy.
The government is capable to change the rules and regulations which affect a business organization. In the case of Apple, trade disputes; especially between the U.S. and China has been a negative effect for the organization. This growing China-U.S. pressure could influence China to execute higher tariffs on imported electronic components utilized in Apple's product assembly. This creates a negative impact on the company's potential growth and global sales revenues.
Business organizations in a country are directly affected by political instability. This is a common issue with multinational companies as a destructive buyout or changes in government can interrupt the business operations of the organization. But most of the time we can see there will be political stability in the developed countries. Therefore this is a great opportunity for Apple to proceed with its business activities without any disruption.
Sharing Economy implications
Apple Inc. could be easily adopted within the "sharing economy," a new trend in the sharing of resources facilitated by network technologies and social tools as it already engaged in a vertically integrated system. As with the new technology consumers may not wait for Apple over one year for a new product on their hands. Though Apple may the most popular and well-loved number one brand, its top position shows signs of slipping due to the competition, and those rival products are functioning as well as Apple. Therefore, the market demand for the products could be change when Apple takes one year laps in releasing its new products. Therefore, as Apple already owns good relationships with its consumers, investors, suppliers, and other stakeholders it is economical for apple to adopt sharing economy implications in order to achieve economic growth.
Conclusion and Recommendations
By considering all the factors, apparently; Apple Inc.'s competencies are powerful enough to beat the competition and overcome challenges as its business model has had a positive influence has changed the entire face of smartphones globally. Though it is in the place of number one of the global market of smartphones, the company has to make huge efforts to get the attraction of both existing and new customers due to the increasing competition and renewing technology. As the company has a vertically integrated business model, it owns a talented and well-educated workforce, pervasive distribution network, financial capabilities, technological capabilities, and other physical resources facilitating to implement any growth strategies fueling its revenue despite losing market share in the global market. Thus, it has to be ready with sufficient knowledge to successfully face the drivers' change of economy in order to maintain the sustainability of its market share as they are the external factors that can affect the company in both a positive and negative manner. And when it comes to the legal impact of the organization Apple Inc., completely executes its business activities accordance with the rules and regulations in order to ensure its growth and survival though it is a limitation for the profits of the organization. Accordingly, the other external political factors affecting the organization to create both opportunities as well as threats to the organization. Therefore, Apple should be tactical to make the highest benefits out of the opportunities while avoiding or reducing the threats and risks in order to accomplish economic growth.
Recommendations:
The following recommendations can be provided to fill the performance gap to improve business performance towards the economic growth of the organization;
Focus on increasing sales in developing countries – Targeting the middle-class customers also, in particular; the young generation.
Focus on selling low-cost products at the lowest possible prices and innovative products at premium prices.
Focusing on geographic, demographic and behavioral segmentation when implementing the STP process (Segmentation, Targeting, and Positioning)
Outsourcing non-core business activities in order to retain the highest use of its internal resources for core business activities.
Provide a training program for employees to improve their performance and provide excellent customer service for customers.
Signing Memorandum of Understanding (MOU) to create mutually beneficial business relationships as it is vertically integrated.
Targeting consumer segments based on product and market specialization.
Attribute positioning, benefits positioning, use the positioning, competitor positioning, and quality/price positioning can be used to position Apple's new products. Notably; it is better to use single benefits positioning to act as a Unique Selling Positioning of Apple brand.
Acquiring related companies to exploit their strengths to broaden the company's scope and capabilities
Use of virtual platforms to serve customers
References
Allen, J. M. & Green, L. A. M., 2008. An in-depth look into the text entry user experience on the iPhone. Proceedings of the human factors and ergonomics society annual meeting, 52(5), pp. 508-512.
Bergvall-Kåreborn, B. & Howcroft, D., 2013. The Apple business model: Crowdsourcing mobile applications. Accounting Forum, 37(4), pp. 280-289.
Burkart, P., 2014. Music in the Cloud and the Digital Sublime.. Popular Music and Society, 27(4), pp. 393-407.
Cubic.com, 2020. Apple signe un trimestre record avec 91,8 milliards de dollars de chiffre d'affaires durant les fêtes. [Online]
Available at: https://www.clubic.com/pro/entreprises/apple/actualite-883993-apple-trimestre-record-91-8-dollars-chiffre-affaires-durant-fetes.html
[Accessed 18 April 2020].
Curwen, P., 2019. Has the smartphone market hit the rocks?. Digital Policy, Regulation and Governance.
lesnumeriques.com, 2020. Apple annonce le meilleur chiffre d'affaires trimestriel de son histoire. [Online]
Available at: https://www.lesnumeriques.com/telephone-portable/apple-annonce-le-chiffre-d-affaires-trimestriel-le-plus-important-de-son-histoire-n146589.html
[Accessed 20 04 2020].
lesoir.be, 2016. Apple satisfies consumers more than Samsung in the U.S.. [Online]
Available at: https://belgium-iphone.lesoir.be/
[Accessed 19 April 2020].
letemps.ch, 2019. Apple, victime d'une tendance mondiale. [Online]
Available at: https://www.letemps.ch/economie/apple-victime-dune-tendance-mondiale
[Accessed 20 April 2020].
Miller, T. & Maxwell, R., 2016. Global Media Giants. Apple, pp. 383-396.
O'Grady, J. D., 2009. Apple Inc. s.l.:ABC-CLIO.
Pun, N., Tse, T. & Ng, K., 2019. Challenging digital capitalism: SACOM's campaigns against Apple and Foxconn as monopoly capital. Information, Communication & Society, 22(9), pp. 1253-1268.
Quain, S., 2018. Chron. [Online]
Available at: https://smallbusiness.chron.com/examples-vertically-integrated-companies-12868.html
[Accessed 15 05 2020].
Sharpe, N. F. & Arewa, O. B., 2006. Is Apple Playing Fair-Navigating the iPod FairPlay DRM Controversy. Nw. J. Tech. & Intell. Prop, Issue 5, p. 332.
Statista, 2020. The Size of Apple's China Business. [Online]
Available at: https://www.statista.com/chart/13246/apple-china-revenue/
[Accessed 21 April 2020].
Weygandt, J. J., Kimmel, P. D. & Kieso, D. E., 2019. Financial accounting. s.l.:Wiley.